DELHI NCR
The National Capital Region (NCR) encompasses Delhi, Haryana, Uttar Pradesh, and Rajasthan. The NCR is home to more than 50% of the Fortune 500 companies. SOBHA caters to the ever-evolving luxury housing needs of the region.
Flats in Delhi, Luxury Apartments for Sale in Delhi, NCR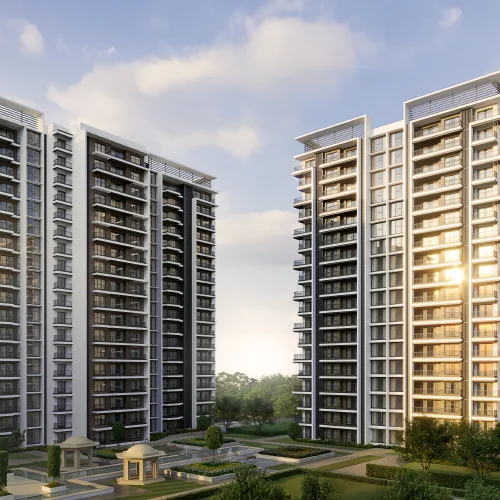 75 Apartments Available
Vista Residences | Experience Lutyens' Lifestyle
Dwarka Expressway, Gurugram | 2423 – 2459 Sq. Ft. | 4 BHK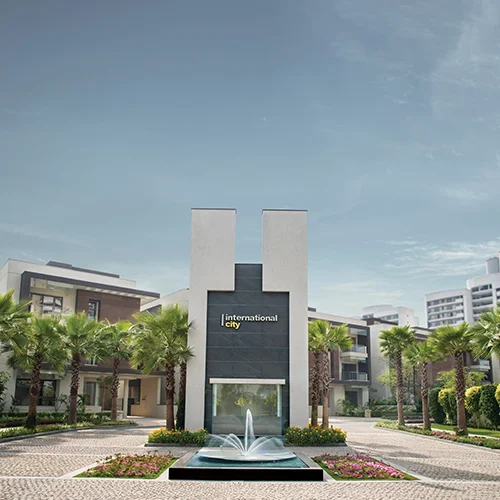 9 Villas Available
Exclusive Villa Township
Off Dwarka Expressway, Gurugram | 3153 to 7330 Sq.ft. | 4 & 5 BHK
RESOURCES
APARTMENTS – ULTIMATE DWELLINGS FOR A MODERN LIVING
Those living in apartments not only lead a modern lifestyle with great amenities and breath-taking views, but they also have fewer things to worry about than their counterparts living in independent houses. Whether you're moving to a new place for your job or moving out of the home to start on your own, an apartment is what strikes everyone's mind first.
In this article, we explore why buying an apartment is in your best interest than a standalone house.
One of the most important reasons to choose apartments is the hassle of maintenance. Finding a plumber or carpenter to fix damages is a daunting task for independent homeowners. In an apartment, you have the Building Manager / Association to ensure that the issue is addressed at the earliest. An apartment in a high-rise building is practically dust and noise-free. Hence, cleaning becomes easy. Additionally, you needn't worry about whether the overhead tanks are filled, or the garden lawns are mowed because there are people to take care of these chores. These would only mean one thing for you – less worries filling your mind about maintaining the house.
With security guards manning all entry/exit points and round the clock CCTV coverage, you are Assured of safety of your loved ones – Your Safety is Rest assured of your loved ones. Living in such proximity to others in a building makes it easier for others to spot any unusual occurrence. Hence, apartments are ideal for couples whose children come back from school earlier than their parents, or for women or senior citizens living alone. Most apartments are now installed with fire extinguishers and other safety gadgets. So, there's total security from all sorts of hazards.
EASY ACCESS TO ALL AMENITIES
Good apartment complexes are equipped with the latest amenities to suit the needs of everyone living here. From swimming pools to gyms, clubhouses to designated parking spaces as well as sports arenas, they offer a wide range of facilities at easy disposal. With all these resources right at your doorstep, it makes sense not to step out just to procure these services elsewhere in this ever-increasing traffic scenario.
SETTING THE STAGE FOR CHILDREN TO PLAY
Kids' wellbeing is at the helm of every parent's checklist whether it's an apartment or independent house. Living in an apartment means Both you and your loved one's can have a larger social circle. With many friends around, your kids would want to spend time playing outdoors rather than staying cooped up inside with their Gaming consoles and Gadgets. What's even better is that they would get a chance to discover new hobbies and hone their skills.
LOCATED CLOSER TO MOST FACILITIES
Nowadays apartment complexes are closely located to important social infrastructure facilities. Whether it's railway stations, airports, schools, hospitals or grocery stores. If your calculation is correct, then you may end up buying an apartment closer to your office This may make commuting to and from work easy.
It is clear that living in an apartment complex has more perks than living in an independent house. And in most apartments, after the developer's handover, inhabitants get together to form the Residents' Welfare Association to take care of the maintenance of the entire infrastructure in that complex. Since homebuyers seek a carefree life, they look at apartments as their preferred choice. We know you're in search for a great home and it is right here at SOBHA City, Gurugram!
SOBHA City is an urban park residence and one of the most efficient apartment complexes in Gurugram, near Dwarka Expressway, Sector 108. It comes in 2 and 3 bedroom apartment residences with a spectacular view of Delhi's reserved greens and a host of best-in-class amenities. Click HERE to find out more about SOBHA City, You can visit the SOBHA City Sales & Marketing Office to look at these premium apartments crafted to perfection. Complete your search for that future perfect home today.
LIFE IN THE MIDST OF NATURE, IN THE CITY!
Delhi-NCR is home to over 3,000 industries, and most of them do not meet the standard environmental norms. This contributes to the city's depleting lung space and increased air pollution. One of the solutions to counter the effects of poor air quality is to have more green spaces around. People are now seeking homes amidst sprawling lush green spaces as it has become a necessity more than a luxury to have the much-needed green cover for Delhiites.
It's a dream for any home dweller to have sprawling lawns, scores of trees lining the yard, and lakelets scattered around the premises to create a serene environment. These offer an opportunity for people to reconnect with nature from the comfort of their homes. Most importantly, these urban oases provide cleaner air to breathe and help's in controlling the soaring temperature levels. In short, urban park residences are a boon to places like Delhi-NCR.
BENEFITS OF URBAN PARKS
Nature is the harbinger of good health and is beneficial for our well-being, both physically and psychologically. Any house with its tranquil environs brings countless benefits to people. These are also advantageous in economic aspects since they contribute to the rise in property values. Here, we list out the multiple health benefits of living in lush green spaces.
REFRESHES & REJUVENATES:
Just a stroll in a verdant park is enough to feel refreshed and rejuvenated from the stress of mundane, corporate life. Given that large number of people are still working from home, there is little to no interaction with nature. Living in a place amidst nature allows one to take a break from work and indulge in the freshness that green spaces offer.
IMPROVES SLEEP:
Our circadian rhythms are synchronised with the Sun. However, leading a life away from natural light and the constant exposure to blue/ artificial light can change our natural circadian rhythm. Spending time in the Sun during sunrise or sunset will enhance vitamin D levels in the body and improve sleep at night.
CONTROLS TEMPERATURE:
The natural process of photosynthesis not only provides cleaner air, but also takes the temperature down by a few notches. In a city like Delhi, where the temperatures are extreme, the greenery will provide the much-needed balance in summers and purify the air during winters.
INDIA'S FIRST ELEVATED URBAN EXPRESSWAY – POISED TO ACCELERATE GROWTH
The Dwarka Expressway in Sector 108, Gurugram is a 29-km project, estimated at Rs. 8,662 crores. Around 19 km of the expressway falls in Haryana, while the remaining 10 km is in Delhi. This for sure is expected to ease traffic woes on the Delhi-Gurugram Expressway – ensuring not just better connectivity between Dwarka and parts of south Delhi, but also reduces air pollution in Delhi-NCR. The expressway will further connect the 100-metre and 80-metre urban express roads under the Delhi Master Plan-2021. This stretch will also provide easy access to the Indira Gandhi International Airport.
The real estate sector will see a boom around the Dwarka expressway and will facilitate the overall development of Gurugram. On one hand, the stretch will reduce travel time significantly, and on the other, it will open opportunities for planned commercial and urban developments. With all these growth catalysts in place, the Dwarka Expressway will be the hub for commercial and entertainment activities, making it one of the most-preferred locations in NCR.
SOBHA CITY – URBAN PARK LIVING
SOBHA City, located amidst an expansive 39-acre park, comes with two clubhouses, over 16 plus sports activities, a serene lakelet, an swimming pool, and an array of other social amenities. It also houses a 90-metre-wide cricket ground, a tennis and a badminton court, alongside jogging tracks. We have even included a camping and barbecue zone, an amphitheatre, a library, and a café so that you can make your free time memorable.
Every apartment is a corner unit with premium specifications, high-quality construction, and comes with an innovative unit plan. With the stunning view of the lakelet on one side and the golden rays of the Sun bringing the capital city to life on the other, SOBHA City offers splendid views.
SOBHA Limited believes in the philosophy of self-reliance – a model that enables the organisation to control quality and delivery timelines. The company has all the key competencies and in-house resources to deliver a project from its conceptualization to completion. SOBHA's residential projects include Residential Apartments, Villas, Row Houses, Luxury Apartments, and Plotted Developments.
You can get a first-hand experience of your ideal home at the SOBHA City's Sales Gallery. Visit today.
FLATS IN DELHI NCR – YOUR GO-TO PLACE FOR LUXURY LIVING!
India's capital – New Delhi – is one of the numerous cities in the country with a rich cultural heritage and offers a perfect balance of tradition and modernity. On the one side, the city is lined with remnants of the Mughal era – mosques, forts, and gardens. And on the other, it boasts of world-class infrastructure and Special Economic Zones that offer huge job opportunities. This has contributed to the growth trajectory of the Delhi NCR region – making it one of the most rewarding investment destinations in the country.
Working professionals are eyeing on investing in quality homes that offer an affluent lifestyle with access to modern amenities such as swimming pools, activity arenas, fully equipped gyms, green open spaces, and much more. The region is most likely to see an upward growth in the coming years and has therefore become a sought-after destination for homebuyers.
YOUR BEST PLACE TO BUY LUXURY RESIDENTIAL FLATS IN DELHI
Your investment will fetch you better returns if you pick the right location. Certain factors determine whether the locale will bring in appreciative value. One of the main aspects is connectivity – if the locality has easy access to bus stands, metro stations, railway stations, airport, etc. so you don't spend hours travelling to and from work. The locality must also offer some of the city's premium educational institutions, hospitals, banks, malls, parks, and restaurants. Additionally, areas that have upcoming development projects will boost the value of the locality.
Along the Dwarka Expressway, Gurugram is one of the ideal locations to purchase a flat in Delhi-NCR. This locale offers excellent connectivity to the international airport, office spaces, educational institutions, and commercial areas such as sectors 105, 106, 110, 110A, and much more. The roads here are 100 metres wide and well-built, connecting the area to SEZs.
This expressway is lined with tall apartment projects equipped with ample amenities suited for those in pursuit of luxury living. SOBHA City and International City are two of the most promising projects in the vicinity, offering maximum price appreciation in future.
WHY SOBHA CITY IS THE BEST PLACE ON DWARKA EXPRESSWAY, GURUGRAM?
SOBHA CITY – NCR's best urban park address is located on Dwarka Expressway in Sector 108, Gurugram, just 15 minutes away from the IGI airport. Set amidst 39 acres of land, surrounded by Delhi's Reserved Greens with amenities spread across 2.4 lakh sq. ft., SOBHA City offers a luxurious lifestyle exclusive to Delhi NCR. It houses a 90-meter-wide cricket ground, 3 flood-lit tennis courts, a full-size basketball court alongside volleyball, squash, and badminton courts. What's more? The half-acre lakelet and a sprawling lawn set the backdrop for the magnificent towers. To add to the oomph factor, there is a dedicated camping zone, putting green, and much more.
LUXURY VILLA PROJECT IN DWARKA EXPRESSWAY – SOBHA INTERNATIONAL CITY
SOBHA International City is an urban enclave of villas with an elegant private neighbourhood offering symmetry in design, picturesque pathways, and a feature-rich lifestyle. Enhanced with an awe-inspiring environment of manicured landscapes and tree-lined avenues, you can lead an eco-friendly lifestyle.
CONCLUSION
Delhi NCR is one of the most sought-after places when it comes to real estate. Lots of developers and builders are working towards creating residential projects to accommodate the growing demand for housing. Buying a property is an achievement and an investment for life. Putting your hard-earned money into a reliable builder will ensure that your future remains secure. One of the ways to ensure that your money is in safe hands is to do a thorough check on the builder's completed projects.
SOBHA has been around for close to three decades and is one of the most recognized builders in the real estate sector today. SOBHA ensures impeccable quality that will last for generations to come In order to be self-reliant, the company has created an in-house backward integrated system. This allows the company to conceptualize, implement, and execute quality products. SOBHA is the first Indian real estate company to obtain an ISO 9001 certification.
Checkout for more information on SOBHA City & SOBHA International City and to book a site visit.