GIFT CITY GUJARAT
A global financial hub, Gujarat International Finance-Tec city (GIFT) is slated to be India's first smart city with next-class infrastructure. SOBHA has a towering presence in this award-winning locale with a one-of-its-kind residential enclave.
Gift City Flats Gujarat, Luxury Apartments/Flats for Sale in Gandhinagar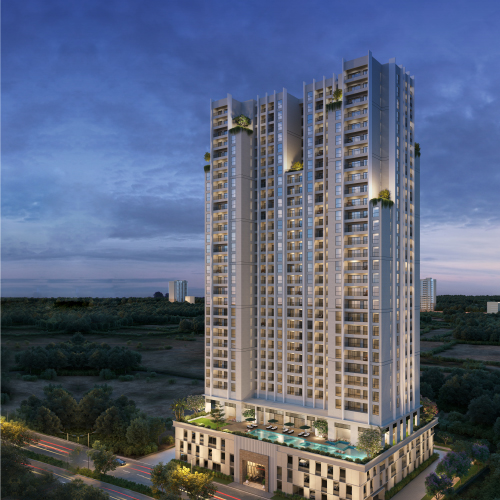 204 Apartments Available
Luxury Apartments
Near Ahmedabad, Gujarat | 735 - 2277 Sq.ft. | 1, 2 & 3 BHK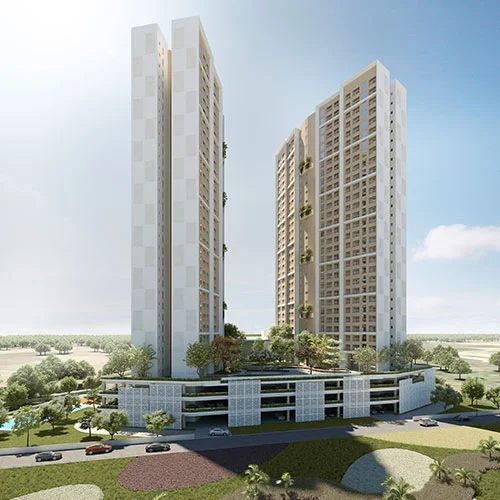 73 Apartments Available
Luxury Apartments
Gandhinagar, Ahmedabad | 1090 to 1140 Sq.ft. | 2 BHK
RESOURCES
GIFT CITY FLATS: AN IDEAL PLACE TO INVEST IN GANDHINAGAR, GUJARAT!
Gujarat International Finance Tech-City is India's first operational greenfield smart city and International Financial Services Centre. Located on the banks of the Sabarmati River, between Ahmedabad and Gandhinagar, GIFT city is the new business destination that offers competitive edge to financial services and technology related activities. Set on 886 acres of land, with a built-up area of over 62 million sq. ft., this integrated development project can accommodate offices, residential apartments, schools, hospitals, hotels, clubs, malls, and numerous activities for recreation.
The vertical city optimises land area consumption for development and is also equipped with the latest technology and best in class amenities. From the latest public transport to automated waste collection and even an efficient cooling system instead of the traditional air conditioning, one can experience modern-day conveniences that technology can deliver. A biomass energy generation system is additionally installed to generate more energy by burning waste.
GIFT CITY – THE NEW ADDRESS FOR BUSINESS HUBS
The Rs 60,000-crore project has been designed to create a new benchmark in the financial services sector. It includes a Special Economic Zone that covers 261 acres of the 886 acres and has even gone on to win the status of an International Finance Services Centre.
A Fin-tech hub is also being set up to cater to the technological requirements of financial institutions. Banks from Singapore, International Monetary Fund, and even the United Nations agencies will also find their addresses in this grand project.
The concept was conceived with a vision to mimic London, New York, and Hong Kong. As of Feb 2021, GIFT City houses over 40 banks and other financial institutions. The region has also seen a rapid rise in infrastructure development along with the IT and ITES industries.
GIFT City project alone is expected to create over ten lakh jobs in the next decade. Over 9,000 employees are expected to work in the 200-odd companies operating out of this business district. The biggest employers are Bank of Baroda, followed by Tata Consultancy Services and Bank of America. Firms like INDIA INX, Oracle and Infibeam have already begun working from here.
All companies operating out of GIFT City will enjoy a 10-year tax holiday on 100% of the profit. Furthermore, there will be no taxation on overseas profit for Foreign Angels, encouraging global venture funds to set up offices. These factors make it an excellent investment opportunity of a lifetime.
SOBHA'S MONUMENTAL PRESENCE IN GIFT CITY
SOBHA Limited has forayed into this fully integrated city with a plan to build 1,000 housing units. This is in line with SOBHA's focus on developing affordable housing projects in major cities, along with Prime Minister Narendra Modi's vision to ensure 'Housing for All'.
With over two decades of experience in the real estate sector, SOBHA has established itself as an icon of quality and trust. The company's unique backward integration model equips us to independently conceptualize, implement, and complete a project on time. It also includes an interiors division with one of India's largest woodworking factories, a metal works and glazing factory, and a concrete products factory. The inhouse resources ensure that customers are provided with unmatched quality.
Timely delivery of projects is imperative to us, and hence we ensure that we stick to our commitment. This is one of the primary reasons why SOBHA follows a self-reliant model of backward integration, wherein every aspect of construction is sourced by an inhouse team, thereby reducing the time spent on relying on external vendors for goods.
With a presence in six countries, and a footprint in over 27 cities and 14 states in India alone, SOBHA is the recipient of 170+ awards.
SOBHA has two projects in GIFT City, Gujarat – Avalon and Dream Heights.
SOBHA Avalon
SOBHA Avalon is a luxury apartment complex spreading across 5,400 sqm area, near Ahmedabad in Gujarat, where bustling business meets tranquil living. Designed to enable a dynamic lifestyle for the discerning few, these homes provide avenues to keep your body and mind strong and healthy. Situated in GIFT City, the 31-storeyed SOBHA Avalon comes with stupefying views, a plethora of top-class facilities and offers an energetic lifestyle.
A multipurpose hall, well-equipped gymnasium and thoughtfully designed activity/game rooms are all housed in the resplendent premises of SOBHA Avalon. These amenities are guaranteed to bring out the fitness enthusiast in you. All this starting at just about Rs 63 lakh.
SOBHA Dream Heights
At 33 storeys, SOBHA Dream Heights is the tallest residential tower in Gujarat offering world-class quality, robust construction, and modern amenities. Utility tunnels are planned to ensure that residents are not inconvenienced during maintenance work. SOBHA Dream Heights is designed with a state-of-the-art Water Treatment System that guarantees potable water in all taps. With an Automated Waste Collection System in place, residents can conveniently dispose waste through garbage chutes.
Residential apartments start from the fourth floor to provide an elevated lifestyle. Each home is thoughtfully designed with a Vaastu-compliant entry. Bathrooms are fitted with anti-skid tiles and are provided with three layers of waterproofing. All homes are equipped with water sprinklers and smoke detectors in every room.
This Rs. 67 lakh project features 4 levels of parking, reserved for the owners and the general parking for the visitors. The amenities include a pool deck, 3-storey clubhouse, table tennis, activity room and an island plaza – all designed to give residents the best of recreational activities.
Conclusion
GIFT City is designed to be at par with globally benchmarked business districts. With state-of-the-art infrastructure, the business hub houses world-class amenities and offers excellent connectivity. It is changing the economic face of the state and would even put India on the global map as a financial hub.
The Gujarat International Finance Tec-City is designed to foster employee development and attracts professionals from across the country. Being a modern-day Organization, GIFT City caters to the ambitious. Needless to say, investing in GIFT City will guarantee promising returns. The Central Business District (CBD) also features some of the most-reputed schools, hospitals, and malls, making it the most preferred location.
WHY SHOULD YOU INVEST IN GIFT CITY FLATS?
Over 25,000 smart houses/flats are expected to be built in GIFT City ranging from 1, 2, 3 and 4-BHK homes. They will range from 800 sq. ft. to 2,000 sq. ft. in area. These apartments will also be the first-of-its-kind to replace the use of traditional air conditioners with chilled water from the already functional District Cooling system.
With over 200 companies in this vertical city, walking to work is an advantage that most others can only dream about. The Gujarat government has also issued a resolution allowing those not working in GIFT City to buy a property here. This amendment ensures top-of-the-line quality of living – attracting more investors. Since there is a small percentage of residential property in GIFT City, the return on investment is sure to double when the demand goes up.
This business hub is strategically located on the Delhi-Mumbai industrial corridor, and just 20 minutes away from the Ahmadabad International Airport. It further provides easy connectivity to the upcoming metros, reputed schools, hospitals and even malls.