PUNE
Relaxed and nonchalant in its character, Pune is home to lush green hills and lakes. The exponential growth in the automobile, IT, manufacturing sectors and the presence of educational institutions, makes the city a sought-after destination. We have magnificent residences spread across the prime locations of the city.
Flats in Pune, Luxury Apartments & Flats for Sale in Pune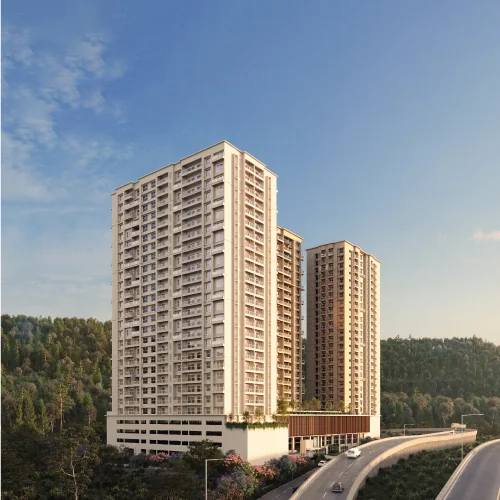 98 Apartments Available
Luxury Apartments
Kothrud, Pune | 2058 to 3546 Sq. ft. | 3, 3.5, 4 & 4.5 BHK
RESOURCES
Luxury Flats in Pune - A Buyers Guide!
Pune, Maharashtra's cultural capital, has long been known as the "Oxford of the East" due to its reputation as a centre for learning in the disciplines of literature, art, drama, science, etc. With several historical places in Pune, there is much to see in this city for both tourists and residents. Being one of the most favoured places to live in, the demand for luxury flats in Pune is on an incline.
Pune is known to be a hub for the engineering and automobile industries, among many others. It is, therefore, no doubt that Pune's professionals want a high standard of living that is also comfortable. The market for luxury apartments in Pune has already caught up, and as a result, the developers are creating novel apartments in a bid to satisfy this ever-growing demand.
Understanding Luxury Flats in Pune
A luxury flat in Pune is a residential property that offers superior conveniences, excellent finishings, panoramic views from large balconies, and high-end facilities. They provide a wide range of on-site amenities that are suitable for people of all ages. Luxury flats are frequently found in neighbourhoods with easy access to the city's renowned hospitals, schools, offices, entertainment venues, and other destinations.
High-end appliances, high-end fixtures, and access to upscale facilities like pools, fitness centres, and concierge services are all frequent features of luxury apartments. A luxury flat may have high ceilings, roomy interiors and balconies, all of which were constructed from materials of the highest calibre.
Why Choose Luxury Apartments in Pune

You can make use of a variety of features in a luxury apartment complex that is not often offered in conventional apartments or standalone buildings. The apartment complex has everything you could need for a comfortable lifestyle, including rooftop or garden patios, swimming pools, pet-friendly playgrounds and concierge services.
When you select a luxury flat, you'll find that your home comes with features that will make it stand out from other residences. You might have amenities like walk-in closets, plenty of room, expansive patios, utility space, and more in your house. You can be sure that your time at home will be pleasurable and stress-free with all of these options at your disposal.
Apartments with concierge services are advantageous. These services are accessible round-the-clock, taking care of anything from processing parcels to helping you find a handyman.
Always feel secure in a high-end flat. Luxury flats are equipped with CCTV throughout the building, security guards and other monitoring systems since security is a factor that cannot be compromised. As a result, while your child is playing anywhere on the property, you may exhale with relief.
You'll find that your neighbours share your enthusiasm for utilising all the amenities, and you'll establish a network of friends who share your interests. This allows you to meet new people while going for a swim or working out at the gym.
The nicest areas of the city are always accessible from luxury flats. You may easily explore nearby eateries, entertainment venues, public transit, and anything else that catches your attention. You may now live comfortably close to the majority of social infrastructure while being hidden from the bustle of the city.
Researching Luxury Flats in Pune

A lot of thought goes behind narrowing down your ideal apartment. Here are some of the key points that you should consider when finding the best flats in Pune:
Right Builder is the Right Choice:
–  Finding the right builder for your perfect, opulent home is of utmost significance. The builder you choose will directly impact the quality of your house and all its features. But how can you tell which builder is the most dependable when there are far too many on the market?
One must exercise caution and conduct a comprehensive market investigation to pick the finest builder who will offer the greatest quality products, services, and architecture. A builder with the required expertise to create high-quality houses is always someone you can trust. As a result, when choosing a builder, be careful to ask about their industry expertise. A skilled builder will always strive to use his knowledge to increase his/her success. Your life savings will be invested in buying real estate; therefore you must compare, evaluate, and choose a builder wisely.
–  Several Ongoing Projects:
Numerous ongoing projects show the builder's credibility, and the ideal builder has the financial resources and professional experience. The higher the number of delighted customers, the more you can trust them. Additionally, you may evaluate the builder's skills by speaking with past customers on anything from the grade of the materials used to the timely delivery of the project and their after-sales service.
–  Construction Quality:
During the site visit or if you happen to visit an already completed project, be sure to look out for signs of superb craftsmanship and how much attention to detail the builder has paid. Are the materials and fixtures of superior quality? Are they a well-known company with a proven track record for excellence? It is crucial to evaluate the calibre of the builder's prior projects since this gives the customer a clear understanding of the builder's standard.
–  Financing Options of Luxury Flats in Pune

There is no doubt that investors in luxury properties have substantial financial resources and a large budget at their disposal. Despite this, money must be wisely invested and cannot be squandered. Even if the investor has extra cash, he could still opt to use less expensive financing to purchase a certain property. Since HNIs have strong financial standing, banks are lenient with them, hence loans are disbursed almost immediately. The investor needs a strategy for financing his coveted asset.
Investing in luxury real estate is challenging and needs careful study because a significant amount of money is being spent. You could be the owner of a luxury home that generates a higher return on investment if luxury aspects like location, connection, ambience, physical infrastructure, and social amenities are well explored before the investment.
–  Excellent Connectivity:
Investing money in a promising piece of real estate depends on several elements, including connectivity, and has a significant impact on a property's ROI potential. Those who own luxury properties often like to live in thriving, all-inclusive areas. For owners of luxury properties, adequate road connectivity, and easy access to the airport, train station, and metro are essential. In actuality, the property's exorbitant price is closely correlated with its outstanding proximity to important metropolitan attractions.
Inspecting Luxury Flats in Pune
–  At the time of booking, builders guarantee a wide range of facilities, including a swimming pool, a clubhouse, and a gym, to mention a few. However, it's possible that some of these might be delayed or in bad shape when you go to inspect them. If there are delays or certain amenities are missing, make sure that they are later made available as per the agreement.
–  You must inspect the fixtures and amenities that were promised to you at the time of booking before taking ownership of your property. The electrical switchboard, doorknobs, bathroom fixtures, etc. are some examples of these fittings. Make sure the builder is using the same or a comparable brand.
–  At the time of possession, one must exercise due diligence. Make sure that every door and window of your apartment is according to the blueprint/Vastu. As per the agreement, inspect the windows and doors for quality. Additionally, make sure that the windows and doors latch properly.
–  One must ensure that all taps and bathroom fittings are functioning properly. When turning on or off the taps, make sure there are no leaks. Ensure the kitchen sink is placed correctly, and that water is not dripping beneath it. Check if there are any leaks in your kitchen or bathroom and get them sorted promptly.
Legal Considerations for Buying Luxury Flats in Pune
Stamp Duty and Registration Charges in Pune
In Pune, stamp duty and registration fees are crucial components of all real estate transactions. Pune's stamp duty rates are determined by the Maharashtra state government. When stamp duty is paid, the government records for the property transaction are properly updated. If a property buyer chooses to pay stamp duty, it is often considered an extra fee and is not covered by the house loan. They undoubtedly raise the price of the house overall.
It must be emphasised that stamp duty fees are also an instrument for reducing or increasing the demand for real estate. The relevant state governments lower stamp duty and registration fees if the market is weak to boost home demand.
The Maharashtra government said in April 2022 that a Metro Cess of 1% will be imposed in Mumbai, Nagpur, Thane, and Pune, in addition to the relevant stamp duty.
Buyer Type
Stamp Duty Rates
Registration Charges
Male
7% (Stamp duty 5% + metro cess 1 + Local Body Tax (LBT) 1%)
For properties above Rs 30 lakh – Rs 30,000

For properties below Rs 30 lakh – 1% of the property value

Female
6% (Stamp duty 4% + metro cess 1% + Local Body Tax (LBT) 1%)
For properties above Rs 30 lakh – Rs 30,000

For properties below Rs 30 lakh – 1% of the property value
How to Calculate the Stamp Duty and Registration Charges in Pune?
Here's an example for you to calculate the stamp duty and registry charges in Pune:
Anita purchased a property worth Rs 50 lakh in Pune, then the following will be the breakup of property registration charges in the city:
Stamp duty at 4% – Rs 2,00,000
LBT @1 percent – Rs 50,000
Metro cess @1 percent- Rs 50,000
Registration charges – Rs 30,000
The total amount payable will be Rs 3,30,000.
Closing the Deal on Luxury Flats in Pune

A reputable builder is less inclined to skimp on your home since positive customer feedback would be imperative for them. Find the builder that resonates with you, meet the officials, and get a thorough understanding of timelines. Then negotiate the property rates, if possible, and then look at your financing options. Once all of that is out of the way and the property is complete, make sure you have all the paperwork, both the original and a duplicate, from the builder before the handover. It is necessary to gather all the necessary documents, including the No Objection Certificate, Encumbrance Certificate, and Completion Certificate.
Ensure that all sets of the property's keys are retrieved after carefully verifying the documents and the building's completion.
Final Thoughts
Pune is one of the best places to live because of its moderate temperature, which means it never gets too hot in the summer or too cold in the winter. Pune boasts of world-class educational institutions, colleges, retail centres, hospitals, transportation hubs, and recreation areas in addition to its growth potential and pleasant climate.
These are some of the reasons behind Pune seeing an increase in the number of international corporations, which further help the city's employment rates and open doors of opportunity for everyone. More services result in more demand for real estate and higher attention levels.
As more individuals relocate to Pune, the local economy grows and thereby the real estate in Pune also sees a corresponding rise.
Flats for Sale in Kothrud, Pune - SOBHA Nesara
Nestled in the heart of Maharashtra, Pune is a vibrant and bustling city known for its rich history, vibrant culture, and delectable cuisine. One of the most popular suburbs in Pune is Kothrud, which is hailed as the educational hub of the city. With a plethora of educational institutions, bustling bazaars, and mouth-watering street food, Kothrud is a hub of tradition and culture while being progressively modern.
Once a village that was known for its lush greenery and scenic beauty, Kothrud is steeped in rich history. However, over the years, the area has undergone rapid development and has transformed into a modern and vibrant neighbourhood. The locality is well-connected to other parts of Pune and has easy access to public transportation.
SOBHA Nesara, located near Chandani Chowk, is one of the most prestigious residential projects in Kothrud. Luxurious 3, 3.5, 4 and 4.5 BHK apartments are designed to provide the residents with a comfortable and lavish lifestyle. This exclusive gated community is being developed by SOBHA Limited, a renowned real estate developer with a national footprint .
With over three decades of experience in real estate SOBHA Limited has a strong portfolio of 500+ iconic projects across 27 cities. With more than a hundred projects that have won awards, the company has established the highest standards for excellence in the industry. SOBHA Limited is the only real estate player with a fully functional backward integration approach. This enables it to independently conceptualise, implement, and complete a project on or ahead of schedule – with unmatched quality.
In this blog, we take a closer look at SOBHA Nesara and explore the highlights of Kothrud – a highly sought after area for buying or investing in a luxury home.
Location Benefit & Connectivity
Major arterial roads of Pune – Paud Road, Karve Road, Mumbai-Bangalore highway – pass through Kothrud, giving it an unbeatable location advantage. With most transport options available, Kothrud offers excellent connectivity.
What's more, the area is strategically situated near major commercial and IT hubs like Hinjewadi, Wakad, and Baner. This makes it an ideal location for professionals working in these areas, as the commute time is significantly reduced, and they can enjoy a peaceful and tranquil living environment away from the hustle and bustle of the city.
The Pune-Mumbai Expressway and Pune-Bangalore Highway further enhance Kothrud's connectivity to other major cities in Maharashtra & beyond. SOBHA Nesara has unmatched connectivity since it has easy access to these major expressways.
Kothrud is also known for its excellent social infrastructure, with several reputed schools, hospitals, and shopping centres located in the area. The locale is also ideal for people looking to enjoy a peaceful and green environment, with several parks and gardens located in the vicinity .
All in all, Kothrud is a prime area in Pune with excellent connectivity and infrastructure. Its strategic location, coupled with scenic landscape, makes it an ideal place for professionals and families looking for a peaceful living environment. With exceptional connectivity to other parts of the city and easy access to major commercial and IT hubs, Kothrud is undoubtedly one of the most desirable residential areas in Pune.
Major Landmarks Near SOBHA Nesara- Luxury Apartments in Pune
PAUD ROAD
A major landmark in Kothrud, Paud Road seamlessly connects the region with other parts of Pune. It is a hub of commercial activity, with several shops, restaurants, and cafes lining the street. Paud Road is also home to several educational institutions, including the MIT School of Business, MIT College of Engineering, and Maharashtra Academy of Engineering. This road is an important landmark in Kothrud for its historical and cultural significance.
Another major landmark in Kothrud is the Chhatrapati Shivaji Maharaj Statue – an imposing figure of the great Maratha warrior king. This statue is located at the intersection of Paud Road & Karve Road, and is a symbol of pride for the people of Kothrud. A popular spot for tourists and locals alike, the iconic statue celebrates the legacy of the Maratha Empire.
Raj Bhavan, a sprawling estate spread across 12 acres, is a short drive from Kothrud. It is the official residence of the Governor of Maharashtra whenever he / she is visiting Pune. Surrounded by beautiful gardens, this landmark is a favourite spot for joggers, walkers, and nature enthusiasts.
KARVE ROAD
Named after the renowned social reformer and educationist Maharshi Dhondo Keshav Karve, this is one of the longest and busiest roads in Pune. Stretching from Deccan Gymkhana to Warje, Karve Road connects important areas of the city and covers a distance of around 10 km.
One of the major landmarks here is the Karve Statue Circle, which is a popular hangout spot. Another notable landmark is Nal Stop Chowk, which is a bustling intersection that connects Karve Road to Paud Road. A popular attraction on Karve Road is the Kaveri Building, which houses a number of offices and shops. This building is located near the intersection of Karve Road and Prabhat Road.
Apart from these landmarks, Karve Road is also home to numerous educational institutions, hospitals, and commercial establishments. One of the renowned educational institutions here is Cummins College of Engineering for Women. Karve Road is also home to several hospitals such as Sahyadri Hospital and Deenanath Mangeshkar Hospital.
CHANDANI CHOWK
Known for its vibrant street markets and food joints, Chandani Chowk is always buzzing with activity, especially during the festive seasons. The shops here sell almost everything, from traditional Indian clothing to exotic spices and handicrafts.
Drive a little further and head to Parvati Hill, to enjoy stunning views of the city and its surroundings. This hill is home to ancient temples, including the Parvati Temple. Visitors can also enjoy a leisurely walk in the lush greenery that surrounds the hill, making it a popular spot for nature lovers.
Features of SOBHA Nesara
Punekars are in pursuit of finding their perfect home – one that not only celebrates their identity but also presents extravagant comforts and premium amenities. The perfect combination of finesse and opulence of your new abode at SOBHA Nesara, is enough to make the world around look up to you, literally.
SOBHA Nesara is a high-end residential project located in Kothrud's Chandani Chowk . The project boasts of spacious and well-designed 3, 3.5, 4 and 4.5 BHK apartments, with sizes ranging from 2058 sq. ft. to 3546 sq. ft. The apartments are designed to provide maximum comfort and luxury to its residents, with features like large balconies, ergonomic kitchens , spacious living rooms, and luxurious bathrooms that are equipped with premium fittings and fixtures.
The project also offers a host of world-class amenities, including a swimming pool, gymnasium, clubhouse, landscaped gardens, and more. The apartments are equipped with state-of-the-art facilities, and are designed to cater to the needs of modern-day living.
The magnificent SOBHA Nesara is crafted with great care, to cater to the aspirations and aesthetics of the ambitious. These premium apartments are perfect for those who desire a harmonious blend of nature, ample luxurious amenities, and an elevated lifestyle.
At SOBHA Nesara you have:
–  Captivating views of the 50-acre NDA Hill
–  Over 22,000 sq. ft. of recreational spaces
–  Water cascade to welcome you
–  20+ lifestyle amenities
–  3, 3.5, 4 and 4.5 BHK variants to choose from
Located right next to SOBHA Nesara, NDA Hill in Kothrud offers a serene escape from the hustle and bustle of city life. It is an ideal location for those who seek a peaceful and tranquil retreat, away from the chaos of urban living. You can simply sit in your balcony with your loved ones, savouring your favourite beverage amidst panoramic views of the hill.
Amenities of SOBHA Nesara:
The luxury gated community is equipped with state-of-the-art amenities designed to provide a comfortable and luxurious living experience. The community has access to an array of amenities within the premises, making the residents' lives convenient and active.
– SWIMMING POOLS
From a leisure pool to a children's pool, there's something for everyone. So, don't be shy to bring out those beach hats and head to the swimming pool! For some much-needed relaxation, you can also treat yourself at the jacuzzi.
– SPRAWLING LAWNS
Want to organise that long overdue barbecue party? Well, the time has come to get set the grills and gather around! These lovely lawns are crafted for small parties and multiple sports activities, so there's never a dull day at SOBHA Nesara.
– CLUBHOUSE
Be it your child's birthday party or your parent's retirement party, the regal, elegant clubhouse is sure to leave a lasting impression on your guests. This 3-storeyed lavish clubhouse also offers a coworking space that enables you to tick off everything on your to-do list. And when all is done for the day, sweat it out at the badminton court or explore a wide variety of indoor games.
– LIBRARY
They say that a library is proof that you can never have too much of a good thing. Settle in a comfortable spot, and lose yourself to the stories of the world and the smell of books in this elegant retreat.
– CRICKET PITCH
Perfect those strokes at the cricket pitch. Conveniently located within the premises, this cricket pitch is an excellent way to enjoy your favourite sport. Now, you have yourself a chance to knock the ball straight out of the 'stadium'.
– PUTTING GREEN
Practise your golfing skills without having to leave your home. Invite your friends and family over, and bond over your shared passion. What better way to entertain your loved ones than a sport?
These are just some of the numerous amenities available at SOBHA Nesara.
Floor Plans And Pricing
SOBHA Nesara comes in 3, 3.5, 4, and 4.5 BHK variants. Every flat has a suave living room that is a seamless blend of traditional and contemporary. The bedrooms are designed with utmost care to enhance natural light and ventilation. The magnificent NDA Hill forms the backdrop of your balcony at SOBHA Nesara, giving you serene views every day.
We all know that the heart of the home is the place that feeds the stomach. The ergonomically designed kitchen is convenient, stylish, and seasoned with care so that you and your family can create the best memories.
These uber-luxurious homes start at INR 2.75* crore.
*Price subject to change at any time, depending on multiple reasons such as market value, economic development, and more.
Summary
Of the numerous options available in Pune, SOBHA Nesara should be your obvious choice if you're looking for a home that elevates your lifestyle while keeping you closer to your roots. Kothrud's real estate market is witnessing a steady rise in demand, owing to its excellent connectivity to other parts of Pune, good social infrastructure, and growing commercial and IT sectors. The locality is well-connected to other parts of Pune through the Mumbai-Pune Expressway and the Pune-Bangalore Highway. The area also has excellent public transportation facilities, including bus services and metro rail connectivity.
Additionally, Kothrud has access to some of the best schools, hospitals, shopping malls, and recreational centres in Pune, making it an ideal location for families and professionals. In conclusion, Kothrud is a rapidly growing area in Pune that has become a popular destination for homebuyers. SOBHA Nesara is one of the most noteworthy projects in Kothrud, offering luxurious apartments equipped with state-of-the-art amenities. Homebuyers looking for luxury flats in Pune to upgrade their lives can consider this prestigious project by SOBHA.
Read More: Best Places to Lives in Pune