KOCHI
SOBHA offers a fabulous range of new flats, and luxury apartments for sale in Kochi, Kerala. All our Apartment Projects are Gated Community & RERA Registered.
Kochi, popularly known as the Queen of the Arabian Sea, is the commercial capital of Kerala. The city has one of the largest ports in the west coast of India. We have a strong presence across the city with some of the finest residential apartments/flats.
Flats for Sale in Kochi, Luxury Apartments & House for Sale in Kochi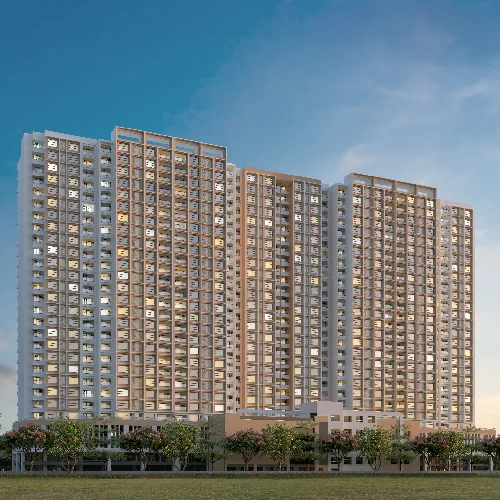 108 Apartments Available
Luxury Apartments
Vyttila, Silversand Island | 1850 to 3118 Sq.ft. | 3 & 4 BHK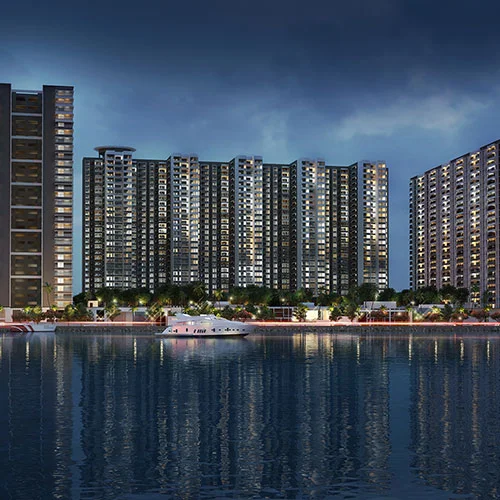 161 Apartments Available
Super Luxury Apartments
Marine Drive | 2296 to 3710 Sq.ft. | 3 & 4 BHK
RESOURCES
Kochi- One of the Fastest Growing City in Kerala You Must Consider Investing In!
The estimated population of Kochi for the years 2021-2022 is 6,50,511 and the city has emerged as one of the fastest-growing tier-II cities in India. Thanks to its strategic location, the port city has been in the spice trade with the Arabs, Chinese, and European merchants since the 14th century.
In 2018, Kochi ranked the topmost emerging city in the country, based on a study by Jones Lang LaSalle (JLL). Widely known as the commercial capital of Kerala, World Bank recognises Kochi as one of the 17 major industrial cities of India. Some of the major business sectors include construction, shipbuilding, seafood, and spices exports, tourism, health services, and chemical industries.
3, 4 BHK FLATS FOR SALE IN KOCHI – SOBHA ATLANTIS
Located on an idyllic island surrounded by emerald waters and a lush landscape, SOBHA Atlantis is a gem of the Arabian Sea.
In this exceptional urban residential community, connectivity, serenity, and exclusivity come together to offer a holistic urban lifestyle.
The flats/apartments in SOBHA Atlantis are priceless possessions that can be passed on from generation to generation.
Amenities:
Entrance Plaza | Entrance Arch| DG Yard | Visitor's Car Park | Sewage Treatment | Courtyards | Beach Pool | RMU Panel | Beach Deck | Swimming Pool | Club House | Beach Volleyball | Podium Level | Organic Waste Converter | Multi-Court | Kid's Play Area | Palm Grove Plaza | Botanical Garden | Two Wheeler Parking | Bioswale | Nature Trail | Lakefront Plaza
Connectivity:
From SOBHA Atalantis to-
Thykoodam Metro Station- 400m | Vyttila Metro Station- 500m | Mobility Hub (The largest Bus Terminal, is also connected to Kochi Metro, Kochi Water Metro) – 800m | Welcare Hospital- 2KM | Chinmaya Vidyalaya- 4KM | Nucleus Mall- 4KM | The Choice School- 5KM | Bhavan's Vidya Mandir- 5KM | Medical Trust Hospital- 5KM | South Railway Station- 6KM | Lakeshore Hospital- 6KM | Oberon Mall- 6KM | Lulu Mall- 8KM
SOBHA Atlantis Floor Plans:
The different types of floor plans available for 3 BHK & 4 BHK Apartments at SOBHA Atlantis are explained below:
| | | | | | | | | | |
| --- | --- | --- | --- | --- | --- | --- | --- | --- | --- |
| TYPE C | TYPE C1 | TYPE C2 | TYPE C3 | TYPE C4 | TYPE D | TYPE D1 | TYPE D2 | TYPE D3 | TYPE D4 |
| 3BHK | 3BHK | 3BHK | 3BHK | 3BHK | 3BHK | 3BHK | 3BHK | 3BHK | 4BHK |
| 2692 SFT | 1850 SFT | 1954 SFT | 2349 SFT | 3104 SFT | 2795 SFT | 1859 SFT | 1933 SFT | 2390 SFT | 3118 SFT |
Watch SOBHA Atlantis- 3 & 4 BHK Luxury Flats for Sale in Kochi
FAQs':
What is the Starting Price of SOBHA Atlantis?
Ans: The starting price of SOBHA Atlantis is 1.54 Cr* onwards.
Where is SOBHA Atlantis Located?
Ans: SOBHA Atlantis is located at Silversand Island, Thykoodam, Vyttila Ernakulum, Kochi, Kerala 682019.
What is the Total Area Size of SOBHA Atlantis?
Ans: The total area size of SOBHA Atlantis is 5 acres.
What are the Key Amenities of SOBHA Atlantis?
Ans: The amenities at SOBHA Atlantis include, 24 hrs Power Backup, Gym, Swimming Pool, Badminton Hall, Table Tennis, Multipurpose Hall, Yoga, and Aerobics, and more…
How many apartments are there in SOBHA Atlantis?
Ans: SOBHA Atlantis has a total of 384 apartments.
When is the completion date of SOBHA Atlantis?
Ans: Construction is in progress. It will be completed by December 2026.
What type of Apartments are there in SOBHA Atlantis?
Ans: SOBHA Atlantis has 3 & 4 BHK apartments.
What is the RERA Registration number of SOBHA Atlantis?
Ans: The RERA Registration No. of SOBHA Atlantis is K-RERA/PRJ/235/2020
If you are looking to buy a luxury flats in Kochi, must visit this 3 & 4 BHK Flats in Kochi for Sale in Vyttila, Kochi.
Some Relevant Tags- Flats for Sale in Kochi, Flats in kochi, Luxury Flats in Kochi, Apartments for sale in kochi, new flats for sale in Kochi etc.
Is Buying a Flat in Kochi a Good Investment?
Kochi is known for its palm-lined beaches, pristine backwaters, vibrant green pastures, and ancient temples. The city attracts millions of domestic as well as international tourists. In the recent past, the port city of Kochi has been on the real estate radar, being one of the 100 Indian cities to be developed under the Indian government's flagship Smart Cities Mission. Witnessing a massive transformation, working professionals, NRIs, and Keralites from other districts look forward to investing in luxury flats in Kochi.
There are a host of reasons why people choose to invest in a flat in Kochi.
Highlights of Kochi City
Known as the 'Gateway to Kerala', Kochi is one of the metropolitan cities in Kerala that has witnessed drastic commercial as well as economic growth. With a host of upcoming IT Parks, Kochi has techies making a beeline to invest in the city. Apart from being a tourism hub, the city boasts of a dynamic lifestyle – one that offers excellent healthcare facilities, access to world-class education, and flourishing job opportunities.
Why Buying a Flat in Kochi is a Good Investment?
There's no better time to buy a flat in Kochi than now! The city has undergone a massive transformation in the recent past and is now home to a highly sophisticated metro transit system and great infrastructure. These are some of the reasons why homebuyers are unbelievably attracted to investing in Kochi. Let's delve deeper into what captured the interest of homebuyers.
KOCHI LIFESTYLE
Being a vibrant, cosmopolitan city, Kochi overflows with energy. Musicians, artists, and dancers from all over the world look forward to the Muziris Biennale – an international exhibit of contemporary art that is held annually. Being a base for the Indian Navy, you can expect most people to be conversant in multiple languages and manage to get the work done in the best way possible. The people of Kochi welcome everyone with open arms, thereby making it a friendly city for people of all ages.
EMPLOYMENT
After Bangalore, many start-ups are eyeing Kochi to begin their dream venture. The state government has been actively involved in encouraging start-ups to set up their base in Kochi under the Kerala Start-up Mission, paving the way for more jobs and business opportunities. Many companies cater to foreign clientele, which is an excellent way to earn precious foreign exchange.
TRANSPORTATION
While most cities struggle to manoeuvre through traffic, Kochi's Metro has been a blessing for its ever-increasing population. This impeccable 25 km transport system that stretches between Aluva and Petta passes through important junctions such as Companypady, Kalamassery, Ernakulam South, etc. carrying hundreds, Kochi Metro not only eases the burden on the road but also helps save fuel. Thanks to the speedy accessibility, the Kochi Metro will only stoke up the growth of the city and facilitate the demand for housing. Kochi also has ferry service that makes for an exciting transport option while heading to small islands that line the city.
APPRECIATING PROPERTY VALUE
Reports suggest that Kochi has been one of the cities whose housing prices have shown a steady appreciation for seven consecutive years. High-rises and luxury apartments by reputed builders that are equipped with a plethora of world-class amenities to offer an opulent lifestyle are coming up in various locales within Kochi. Purchasing a house in a prime location is guaranteed to give you high returns, making it a great value for investment.
EXCELLENT EDUCATION
Kerala is the most literate state in India and Kochi's education system offers excellent pedagogy and facilities for a child's holistic development. With a large number of ex-pats and families shuttling around the globe, children's education should be one that caters to the International Baccalaureate syllabus, so that they are not affected by constant travelling. Schools in Kochi focus on physical, mental, and academic development with a focus on cultural and sports activities. There are a host of academic institutions from kindergarten to post-graduation that provide top-notch education.
WORLD-CLASS HEALTHCARE
Kochi attracts medical tourists from across the globe to avail of its impeccable healthcare facilities – be it cosmetic surgeries or ayurvedic treatment. The medical service sector in Kochi offers packages for world-class treatment at some of the best hospitals in the city. These packages typically comprise medical treatment, visits to pilgrim centres, backwater cruises, and much more. Multi-Specialty hospitals with state-of-the-art infrastructure and well-qualified doctors, Kochi has become one of the most popular health destinations in the world.
SECURITY
Kochi is one of the few cities that has 24×7 CCTV surveillance. Public spaces are constantly monitored, thereby reducing the number of untoward incidents in the city. Additionally, the government's Pink Patrol initiative also conducts rounds to ensure women's and children's safety.
Conclusion
Investing in luxury flats in Kochi will ensure a secured future. There are prime localities that offer the best returns – such as Kochi's Marine Drive, which is considered one of the picturesque spots for investment. There are a host of luxurious apartments lining this stretch. This locale also offers excellent connectivity to the rest of Kochi and provides easy access to premium Educational Institutions, Healthcare, and Office Spaces. Modern Kochi is a dream destination for many homebuyers.
With the beguiling colonial buildings lining the city, pristine waters of the beaches, magnificent art & culture, quaint market squares, and surrounded by warm people, living in Kochi is an experience unlike any other. This is the right time to invest in apartments in Kochi to lead a holistic lifestyle and reap the highest returns in the near future.
Best Residential Areas to Live in Kochi
The real estate sector in the queen of the Arabian Sea, Kochi, is leapfrogging multifold in the recent past. Nestled between picturesque lakes and the Arabian Sea, Kochi has gone on to become a commercial and cosmopolitan cynosure. This upcoming IT hub is a hot favourite among techies and working professionals.
Homebuyers are on the lookout for the ideal investment options in Kochi. From contemporary apartments to luxurious villas, overlooking verdant pastures or the bright blue sea, Kochi has something for everyone. Read on to explore the ideal investment options in the city that is a perfect amalgamation of traditional values and modern outlook:
Best Residential Areas to Live in Kochi
– There are various popular destinations available for visiting & living in kerala, out of those we covered some of the best suitable for living places in Kochi.
Marine Drive

Sea facing apartments in Kochi is a popular choice among homebuyers. With breathtaking views of the Arabian Sea, Marine Drive has become one of the most sought-after locales for investment. While Kerala is known for its iconic clay-tiled roofs and courtyards, buildings along the Marine drive are distinct. Grand, contemporary designs built with concrete, glass, and steel are a common sight. Investing in Marine Drive is guaranteed to fetch you high returns simply because of the sheer demand for apartments with vast views.

Must Visit- Marina One- 3 & 4 BHK Luxury Flats for Sale in Kochi

Vyttila:

Being one of the largest intersections of Kerala, Vytilla is one of the best and busiest places in Kochi. It offers phenomenal connectivity to a wide range of social infrastructure suited for people across all age groups. Whether it is commuting to your dream job at ease or studying at a premium institution, Vyttila has accessibility to all aspects of life.

MG Road:

A prime locality that is home to a wide range of commercial plazas. Located in the midpoint of Ernakulam South Junction and North, MG Road offers easy access to the KSRTC bus station, metro, and even the Kochi Airport. This area is known to generate the most business in the region, thanks to the presence of the LuLu Mall, jewellery & apparel stores, and supermarkets. Investing in this commercial hub is sure to fetch you heavy returns soon.

Fort Kochi:

Just a walk in Fort Kochi is enough to take you to a different era. The quaint locale is a reflection of its deep cultural history. This locale is a mind-blowing blend of Portuguese, French, Chinese, and the Dutch along with the essence of Kerala. Quaint cafes, iconic churches, and magnificent museums line this part of Kochi, making it one of the most charming places to live in.

Kaloor:

If you're looking for a well-developed hub, close to Ernakulam town, then Kaloor is your best bet. Apart from the Vytilla hub, Kaloor is the only place to have a private bus stand that offers excellent connectivity to neighbouring districts. Reputed education institutions, office spaces, and healthcare facilities line the vicinity, making Kaloor one of the prime residential localities in Kochi.
Panampally Nagar:

Lush, verdant pastures make up most parts of Panampally Nagar in Kochi and hence is a preferred location among homebuyers. Just a kilometre away from the city centre, the locale offers utmost conveniences at a stone's throw away.

From shopping complexes to schools and banks, the location offers exceptional connectivity. Kadavanthra is home to the buzzing headquarters of the Greater Cochin Development Authority, making it one of the reasons for garnering the kind of attention it has. Popular cinema stars have found this locale to build their home in, thus making Panampally Nagar a favoured destination.

Tripunithura:

A place that exudes tranquillity despite being right in the middle of the city is Thrippunithura. Offering excellent connectivity to all major junctions and providing an incredible quality of life, this part of Kochi is known for its top-notch facilities. Reputed schools, hospitals, and office spaces are in close proximity, bringing you luxury living in the middle of the city.
Conclusion:
The port city of Kochi is known to entice homebuyers. Finding the right localities for investment in Kochi will ensure that you receive great returns in the future. With the city gearing to become the next IT hub, many investors are already eyeing this city for both, personal use as well as investment.
The city is witnessing rapid expansion in all sectors, and it is imperative to find the ideal locale to invest your hard-earned money in. The serene life of these localities is perfect for those looking to return to a calm home after a long day at work or for those who wish to lead a holistic retired life.
Whether you want to invest in luxury or super luxury apartments in Kochi, you need to choose the one that offers the utmost conveniences and peace of mind. Want that ideal lifestyle? Then look no further.
Marina One and SOBHA Atlantis come with an array of amenities meticulously crafted for all age groups. Marina One offers mesmerising views of the Arabian Sea and SOBHA Atlantis is set amidst alluring emerald waters and sprawling greens. Find your ideal home now in either of these enchanting properties.
Marina One- 3, 4 BHK Luxury Flats for Sale in Kochi, Marine Drive
There is no place on Earth that offers a more scenic waterfront view than Marina One. In the midst of a beautiful landscape and water, you have everything you need to live a wonderful life. Embrace nature to the fullest and enjoy all the comforts of luxury.
> Watch The Walkthrough Video of Marina One- A Luxury Flats Project in Kochi