APARTMENTS NEAR ELECTRONIC CITY, BANGALORE
Electronic City in Bengaluru is one of India's largest IT hubs. Over 200 companies operate out of this bustling locale. It is divided into four zones – Electronic City Phase 1, Phase 2, Phase 3, and Phase 4. With excellent connectivity across Bengaluru through public transport, 6-lane roads, and an expressway, this neighbourhood is a hot favourite among techies and has become the ideal place for real estate investment.
SOBHA FLATS FOR SALE NEAR ELECTRONIC CITY, BANGALORE
Presenting SOBHA Townpark in Electronic City that offers SOBHA Manhattan Towers and SOBHA Brooklyn Towers . The project is inspired by the modern megacity of New York, and is designed to offer a luxurious lifestyle.
TYPES OF SOBHA FLATS FOR SALE NEAR ELECTRONIC CITY
SOBHA Manhattan Towers is available in 3 BHK variants that range anywhere between 1498 sq. ft. to 1755 sq. ft. SOBHA Brooklyn Towers is available across 2, 3, 3.5 & 4 BHK configurations, with size ranging from 835 to 2402 sq. ft.
PROXIMITY TO AMENITIES AND TRANSPORT CONNECTIVITY
Electronic City is connected to the rest of Bengaluru and other parts of Karnataka by NH-7, Old Madras Road, Hosur Road, Bannerghatta Road, and NICE Road. The Bangalore Metropolitan Transport Corporation (BMTC) also provides bus services to and from Electronic City. The upcoming Yellow Line of Namma Metro will soon connect Electronic City with the rest of Bengaluru.
Home to numerous amenities, Electronic City caters to the needs of all age groups. From educational institutions and healthcare facilities to shopping malls, restaurants, gyms, parks, and entertainment options, everything is just a stone's throw away for families staying in luxury flats.
This locale has MS Dhoni Global School, St. Joseph Chaminade Academy, Dayananda Sagar University, and B.M.S. College of Engineering, among others. Many renowned companies like TCS, Wipro, Tech Mahindra have their offices here. All in all, Electronic City offers some of the finest social infrastructures for apartment dwellers in Bengaluru.
FINAL THOUGHTS
Among techies, Electronic City has emerged as the best place for real estate investments – especially luxury flats. With a rapidly growing economy comes a wide variety of tech companies and other employment opportunities. This makes Electronic City, South Bangalore – one of the most preferred locations for homebuyers looking for apartments in Bengaluru.
SOBHA Townpark, an iconic project in Electronic City, is home to SOBHA Manhattan Towers and SOBHA Brooklyn Towers. Inspired by the famed city of New York and named after two of its five boroughs, SOBHA Townpark brings the New York City lifestyle to Bengaluru.
SOBHA offers exclusive Apartments for Sale Near Electronic City, Bangalore, Luxury Flats near Electronic City with World Class amenities.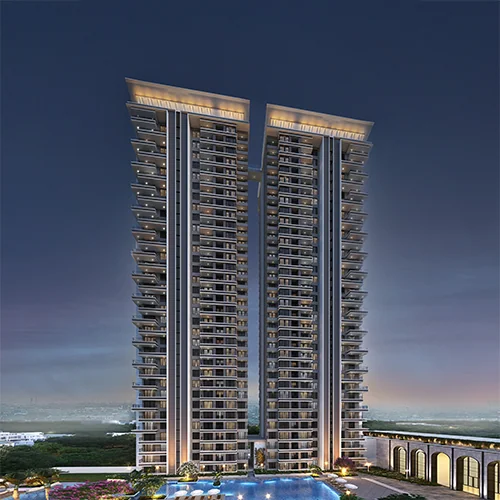 235 Apartments Available
New York Themed Residences
Near Electronic City, Bengaluru | 1864 to 2402 Sq. Ft. | 3 & 4 BHK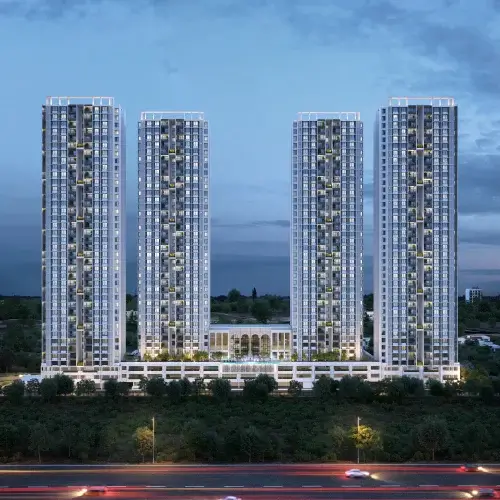 13 Apartments Available
New York Themed Luxury Apartments
Near Electronic City, Bengaluru | 1498 Sq. ft. | 3 BHK
RESOURCES
SOBHA Brooklyn Towers – New York Themed Luxury Apartments Near Electronic City
Brooklyn, one of the five boroughs of New York City is believed to be one of the best places to live in the world. Known for its tourist attractions and incredible diversity across neighbourhoods, Brooklyn is a hot favourite among New Yorkers. SOBHA Brooklyn Towers is no different! These carefully crafted 2, 3, 3.5, and 4 BHK apartments are designed to satisfy perfectionists.
Built using the best quality products, SOBHA luxury flats make living your dream life a reality. SOBHA Brooklyn Towers is set amidst a host of contemporary amenities. From sports to lawns for a perfect recluse, this gated community of flats has it all and much more. A posh mall has been proposed so that the residents are close to everything they will ever need.
Unique Amenities at Brooklyn Towers
The Roundabout
Inspired by the Columbus Circle – a famed traffic circle that is the starting point from which numerous official highway distances are measured – the roundabout at Brooklyn Towers has been designed to give you a grand welcome.
Brooklyn Bridge
Opened to the public in 1883, the Brooklyn Bridge in New York was the longest in the world at the time, and continues to be one of the most popular tourist attractions. An engineering marvel of the 19th century, this was the first bridge to use steel for cable wire. The masterwork of John Roebling has been replicated in all its Gothic glory, so that you can experience being in New York for real. This iconic beauty is a perfect hangout for children.
Prospect Club
Host all your parties and events in style! Overlooking the spectacular swimming pool, the Prospect Club is inspired by the Loeb Boathouse Central Park that was opened for the public in 1873. Apart from many other activities, you can hone your billiards skills or sweat it out at the fully equipped gym.
High walk
There is nothing more stunning than watching the sunrise and the sunset at SOBHA Town Park. On the East and West sides of the Brooklyn Towers, a lavish walkway has been designed from where you can witness the magnificence of dawn breaking or catch up with friends at dusk.
Domino Park
While a separate Kids' Park has been designed, there is nothing as too many amenities for children. A Domino Park with Rainbow Step Play has been created, so that children can hop away in their playtime and forget all about technology. The steps are an exact lookalike of the play area at Domino Sugar Factory which has recently been renovated.
Work Canopy
The global pandemic created a new perception of work. The concept of working from home which was prevalent in only certain sections of the workforce has now become the new norm. However, given our hectic schedules, we hardly make time to enjoy the beauty of nature. This is why we have created a Work Canopy that caters to your technological requirements in the outdoors, giving you a perfect work-life balance. Step out of your apartment and walk into verdant greenery.
Food Truck Café
New Yorkers love their food and we're no different. From Queens to the Bronx, the city is a food-lover's paradise. The Food Truck Café brings the best culinary experience to the comfort of your home. When cravings strike, you know where to find lip-smacking food.
Pet Park
Parks are a space for us to let go of dreariness and welcome Mother Nature's positivity. Pets are no different. A designated pet park allows them to enjoy their time outdoors. You too, as pet parents, can unwind when your furry companions are making the most of their outdoors time.
Visit For More- 2 BHK Apartments for Sale in Bangalore
Visit For More– 3 BHK Flats for Sale in Bangalore
SOBHA Manhattan Towers – New York Themed Luxury Apartments Near Electronic City
The first phase of development includes Manhattan Towers – premium 3 BHK luxury apartments meticulously designed with a culmination of brilliance and elegance. Built on 7.24 acres of verdurous land space with abundant landscaping and open greenery, these high-rise towers house 560 thoughtfully designed Vastu-compliant flats.
With first-class specifications and expansive rooms, these flats are crafted to offer the best in luxury living. While the first phase of Manhattan Towers is expected to be complete by December 2026, Phase two will be ready by September 2028.
Amenities at Manhattan Towers
A few of the state-of-the-art amenities and facilities here are, the clubhouse, swimming pavilion with lap pool and kids' pool, a fully equipped gym, aerobic and yoga studios, barbecue deck, senior citizens' decks, jogging tracks, library and reading rooms, amphitheatre, badminton and squash courts.
However, here's what sets Manhattan Towers apart from any other apartment complex:
The Washington Arch
The marble triumphal arch in New York City's Lower Manhattan was designed by noted architect Stanford White between 1890-1892. It commemorates the centennial of George Washington's 1789 inauguration as President of the United States. This landmark has been recreated here in all its glory.
Sidewalk Clock on 200 Fifth Avenue
Just outside the Toy Centre Building is the magnificent Sidewalk Clock at 200 Fifth Avenue, across
Madison Square. Built by Hecla Iron Works and installed in 1909, this landmark stood out, out of the many clocks in the city.
The Fearless Girl
This iconic bronze sculpture by Kristen Visbal was commissioned by State Street Global Advisors, a large asset management company. This statue was initially installed facing the Charging Bull statue and was designed to send a message about workplace gender diversity and encourage companies to recruit women to their boards.
The Fearless Girl was originally given only a one-week City Hall permit, which was later extended to 30 days. However, on public demand, it was announced that she would remain outside the New York Stock Exchange for another three years.
The Broadway Stage
One of only five playhouses on the street named Broadway, this theatre first opened in 1924 as BS Moss's Colony, a premium film house. Walt Disney's Steamboat Willie played here in the early years and went on to introduce Americans to Mickey Mouse. It rechristened Broadway between 1930 and 1934 when the theatre had made a name for itself.
The Bow Bridge
A picturesque place for Instagram posts, wedding proposals, and leisure walks. The Bow Bridge in New York has provided the ideal background in countless movies. This delightful spot gets its name from its arc shape that resembles an archer's bow and has been replicated at Manhattan Towers so that you have a magnificent experience.
These are just a few of the numerous exclusive amenities at SOBHA Manhattan Towers. Located in Electronic City, just a stone's throw away from the city's top IT hubs, reputed schools, and prominent hospitals, these luxury apartments offer the best of urban conveniences. With great connectivity comes ease of living. Come, experience New York from the comfort of your home.